Are you a fan of nature and beautiful unspoilt landscapes? Head out to explore our forests, marshes and coves: a breath of fresh air awaits!
There's nothing better than a hike to discover the area at your own pace. With nearly 250 km of hiking trails, choose the path that's best for you. The legendary, 1800 km long GR34® follows the entire coast of Brittany. A perfect way to see our seaside heritage. For fans of beautiful vistas, discover the Mer Blanche, a magnificent "White Sea" lagoon that stretches between Bénodet and the point of Mousterlin in Fouesnant. Along the GR34, known as the Customs Trail, Mousterlin Marsh and the ponds of Penfoulic make for a lovely walk surrounded by nature: it's also the ideal spot for observing grey herons and kingfishers.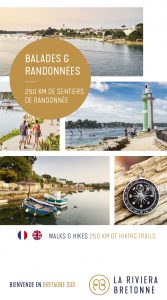 Explore the exceptional landscapes of the Brittany Riviera along our 250 km of hiking trails. See all the marked trails in our guide, "Balades et Randonnées" (Walks and Hikes).
→ Available for €7 in the tourist offices and town halls of the Brittany Riviera