Visit our rich historical heritage
Wander through the paths and roads of the Brittany Riviera and uncover beautiful landmarks across the territory. Among our 21 chapels and churches, head to La Forêt-Fouesnant to admire the Locamand priory and stele, dating back to the Iron Age. Also visit Notre Dame d'Izel Vor Church with its richly decorated interior. In Fouesnant, discover Sainte-Anne Chapel with its elegant silhouette and Kerbader Chapel with its holy well, nestled in a lovely rural setting. In Bénodet, visit the Seaside Museum, celebrating the sea bathing atmosphere and the cruises along the Odet River. Along the coast, discover two lighthouses: the Cockerel and Pyramid lighthouses. While today they've been automated, they haven't lost their charm or their uniqueness!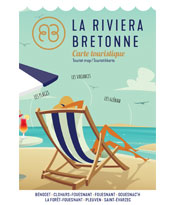 An essential document to have during your stay: a detailed map of the territory with the favorites, bike rides, the GR34, markets, highlights...