Circuit "Le Saint Laurent"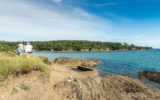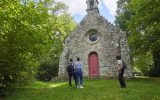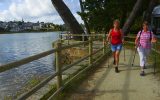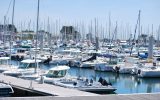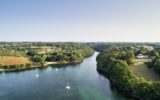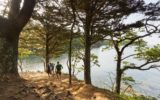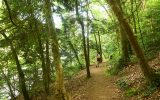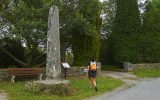 Description
• Facing the bay, turn left. Cross the small road and go up towards the chapelle de Peniti.
• 1 At the roundabout, turn left into the small woods of the domaine de Kerampennec.
• Continue on the right onto the small route de Karn Forst. At the crossroads, turn left onto the Chemin de Loc Amand.
• After the headstone and the old priory, take the second road on the right (route de Loc Amand).
• 2 At Kroaz Avalou, turn right and right again, towards Port La Forêt.
• Follow the route du stade and turn right onto the Chemin de Créac'h An Allé. At the stop sign, cross the road and go straight on onto the chemin de Kerambriec.
• 3 At the yield sign, turn left onto the route de la Plage.
• Then turn right onto the route de Kerdaniou. Go down as far as the hameau de Kerrouant. Turn left and pass through the hameau de Kerdaniou. Turn left onto a country path that goes down towards the anse de Saint-Laurent. Take the coastal path on the right and follow the anse de Saint-Laurent. Pass through the camp site and continue on the coastal path towards the plage de Kerleven. Walk as far as the marina. Walk along the footbridge. Cross the road and go onto the allée du Mesmeur, along the golf course, to reach the starting point.
Technical information
Elevation: 111 m
Distance : 10 km
Lenght of tour: 03:00 hour(s)
---
Location
Access / Distance
Environment : In the country, By the sea
---
Stages
1 . Face à l'anse, aller vers la gauche. Traverser la petite route et monter vers la chapelle de Peniti. Au rond-point, prendre à gauche dans le petit bois du domaine de Kerampennec. See the location
2 . Continuer à droite sur la petite route de Karn Forst. A l'intersection, tourner à gauche dans le Chemin de Loc Amand. Après la stèle et l'ancien prieuré, prendre la seconde à droite (route de Loc Amand). See the location
3 . A Kroaz Avalou, tourner à droite et encore à droite, en direction de Port La Forêt. Longer la route du stade et tourner à droite sur le Chemin de Créac'h An Allé. Au stop, traverser et filer en face dans le chemin de Kerambriec. See the location
4 . Au cédez-le-passage, tourner à gauche dans la route de la Plage. Puis, tourner à droite dans la route de Kerdaniou. Descendre jusqu'au hameau de Kerrouant. Tourner à gauche et traverser le hameau de Kerdaniou. Tourner à gauche dans un chemin creux descendant vers l'anse de Saint-Laurent. Emprunter le sentier côtier vers la droite et longer l'anse de Saint-Laurent. Traverser le camping et continuer sur le sentier côtier vers la plage de Kerleven. Marcher jusqu'au port de plaisance. Passer sur l'estacade. Traverser la route et filer dans l'allée du Mesmeur, le long du golf, pour rejoindre le point de départ. See the location
---