Circuit "d'un port à l'autre"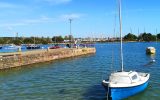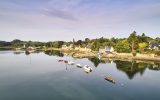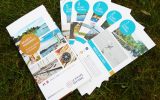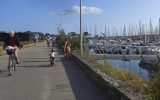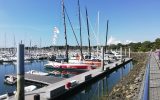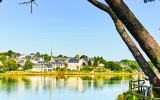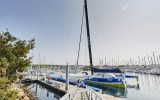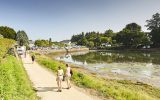 Description
• Leaving the capitainerie, take the wooden footbridge to the right.
• 1 Cross the small bay.
• Turn left along the corniche de la Cale.
• 2 By the fish pond, turn back and take the coastal road. Pass the navigational lock and take the pedestrian path behind the shed. Turn right and follow the bay as far as the place de la Baie.
• 3 Take the allée du Mesmeur and walk along the golf course. Reach the marina and the harbour office.
Technical information
Elevation: 17 m
Level : Easy
Distance : 4,5 km
Lenght of tour: 01:30 hour(s)
---
Stages
1 . Dos à la capitainerie, emprunter l'estacade en bois vers la droite. See the location
2 . Traverser l'anse du bourg. Tourner à gauche le long de la corniche de la Cale. See the location
3 . Faire demi-tour au niveau des viviers et reprendre la Corniche dans le sens inverse. Doubler l'écluse et emprunter le sentier piéton derrière le hangar. Tourner à droite et longer l'anse jusqu'à la place de la Baie. See the location
4 . Emprunter l'allée du Mesmeur et longer le golf. Rejoindre le port de plaisance et la capitainerie. See the location
---