Moulin du pont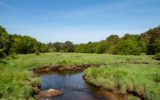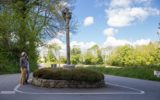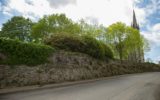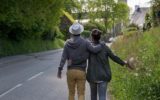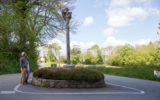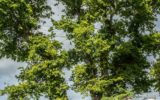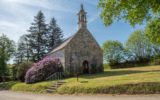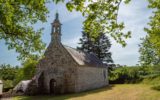 Description
• Head towards Saint-Mathurin's church and follow the signs to Saint-Évarzec. At the calvaire du Stivell, turn left. Take the second road on the left and continue on the path. Turn left onto a side path then continue along the road.
• 1 Turn right at the crossroads, cross and go along the road over 150 m.
• Turn left towards Kervenos. Pass the farm and continue on the dirt path. At the end of the forest path, turn left.
• 2 Cross the road and continue on the right to go along the roundabout.
• Turn left onto the chemin de Penfrat that runs along the mudflats. At the crossroads, turn left. The country path ends on the rue de Lesquidic. At the yield sign, turn right.
• 3 Turn left and follow the road for about 500 m.
• 4 Turn right and walk along the busy road for around 1 km.
• 5 Turn left and follow Pleuven by crossing the road with caution.
• Turn right towards Noguellou. At the crossroads, turn right and follow the road. Turn right onto a country path. At the crossroad, turn left.
• 6 You will arrive on a road opposite the hameau Keraris: turn left onto the allée Vibert. Croix de Ty Gwen, turn right and right again immediately in the hameau de Gwez Faou, towards Pont Coulouffant. At the yield sign, turn left. Turn right onto the rue Parc Marc'h Du. Go straight on as far as the yield sign: turn left onto the
rue Saint-Thomas. Reach the Mairie.
Technical information
Elevation: 7 m
Distance : 12,5 km
Lenght of tour: 3:45 hour(s)
---
Location
Access / Distance
Environment : In the country
---
Stages
1 . Aller vers l'église Saint-Mathurin et filer en direction de Saint-Évarzec. Au calvaire du Stivell, tourner à gauche. Prendre la deuxième à droite et continuer sur le sentier. Tourner à gauche dans une contre-allée puis continuer le long de la route. See the location
2 . Tourner à droite à l'intersection, traverser et longer la route sur 150 m. S'engager à gauche vers Kervenos. Passer le corps de ferme et poursuivre sur le chemin de terre. Au bout de l'allée forestière, tourner à gauche.
3 . Traverser la route et poursuivre vers la droite pour longer le rond-point. Tourner à gauche dans le chemin de Penfrat longeant les vasières. Au croisement de chemins, tourner à gauche. Le chemin creux débouche sur la rue de Lesquidic. Au cédez-le passage, tourner à droite.
4 . Tourner à gauche et longer la route sur environ 500 m. Tourner à droite et marcher sur le long de la route très fréquentée pendant environ 1 km. See the location
5 . Tourner à gauche direction Pleuven en traversant avec précaution cette route très passante. Tourner à droite vers Noguellou. A l'intersection, tourner à droite et longer la route. Tourner à droite dans un chemin creux. Au carrefour des chemins, tourner à gauche. See the location
6 . Déboucher sur une route face au hameau Keraris : tourner à gauche dans l'allée Vibert. Croix de Ty Gwen, tourner à droite et bifurquer tout de suite à droite dans le hameau de Gwez Faou, direction Pont Coulouffant. Au cédez-le-passage, tourner à gauche. Tourner dans la rue Parc Marc'h Du à droite. Filer tout droit jusqu'au cédez le passage : tourner à gauche dans la rue Saint-Thomas. Rejoindre la Mairie. See the location
---